Tools to help you to care for a handicapped dog
When we take home a cute puppy or a grown-up dog from a shelter, we imagine only sunny walks and comfortable couches.
Unfortunately, not all dogs are meant to live their lives idyllically till the end. Some of them will lose their ability to use their hind legs due to genetics or injury. And then it is up to us, their people, to deal with the situation.
We are very happy that in recent years an injury or a handicap is no longer a reason to send a pet to "the farm upstate". More and more owners see their dogs as true family members and are their partners for better or worse.
When a dog becomes paralyzed, it is often a bigger shock for the family than for the fluffer himself. If nothing hurts them and can continue to spend time with their family, they are happy. You can read the stories of such dogs in our testimonials.
For us humans, such a situation is always complicated – emotionally, time-wise, and because we have to learn a lot of new things and develop a new regime.
Luckily some tools make it easier for us to take care of a handicapped dog.
Incontinence briefs – if the injury affects the hind legs, it often also changes the functioning of the excretory organs. Incontinence briefs are specially designed for dogs and bitches that do not control their bladder. They are comfortable, washable and you can buy them in various cheerful colors and motifs.
Diapers – dog handicap usually comes without a warning, so, understandably, you do not have everything you need ready at home. For incontinence, just a quick run to the nearest drugstore should do the trick. Ordinary baby diapers to the rescue! Choose a smaller package first and try several sizes to find the one that will fit your dog.
Squeezing pads – on the other end of the spectrum are dogs who have problems with defecation – they can't do it by themselves. In that case, they will rely on you to help them about three times a day. A great help in these times will be (disposable or washable) pads, thanks to which the whole process will be comfortable for your dog and easier for you. While it may sound scary, squeezing is not rocket science and your veterinarian will be happy to show you how to best do it.
Elevated bowls – limited ability to move means that everything is somehow more complicated for your dog friend. There are a lot of great raised, reinforced, and otherwise adapted food and water bowls on the market. A proper bowl will ensure that your fluffer will eat comfortably and nothing will hurt them.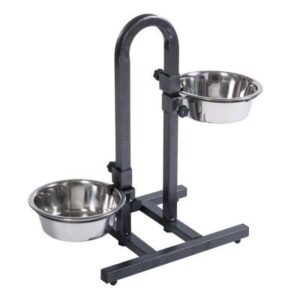 Wheelchair – a great walking aid for handicapped dogs is, of course, a wheelchair. It allows the dog to move independently, go for walks, and fetch again. For many of them, this also means a big difference in the quality and joy of life – after all, who would enjoy being de facto tied to their bed and completely dependent on the help of others?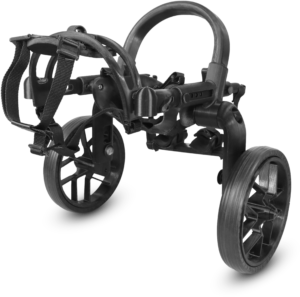 Support harness – the wheelchair is great for walks outside, running in the garden, or even at home, but what if you only need to help the dog walk a little bit while training, or lift him a bit to clean him up, for example? Fabric support harnesses are a great help.
Drag bags – at home, an active dog with a wheelchair can be a bit of a disaster. But how to make sure he can move easily, but at the same time doesn't bump into everything and hurt himself? The Drag bags are designed for this. They look a bit like a sleeping bag, which you simply put the dog in, and you can let him move in peace, knowing he's happy and safe.
Shoes and socks – some fluffers are learning to walk again using the Spinal Walk method. So, they must be free to use their legs, but at the same time that their paws are protected from scratches and burns. In these cases, shoes and socks will help.
Bandages – bandages will be useful in many situations, whether to help with walking, fixation of joints, or even protection against injuries.
These aids and accessories will help owners of handicapped dogs to take care of them even better. If you know such a person or a family, or you support a shelter or a foster who takes care of handicapped dogs, you can also take this list as suggestions for gifts!