Best tools for living with a paralyzed dog 2
As promised, we bring you the second part of the article about aids that will help you manage your life with a pet with a physical disability.
Today we will focus on aids designed for movement and also fun and entertainment!
If you missed the first part of this series, don't forget to check it out. You will learn useful tips for feeding and excretion.
Movement at home and outside
Wheelchair
On our website, there is no need to introduce dog wheelchairs. It is by far the most popular aid for all owners of paralyzed dogs. It allows safe movement outside, facilitating walks in a good mood and reasonable condition.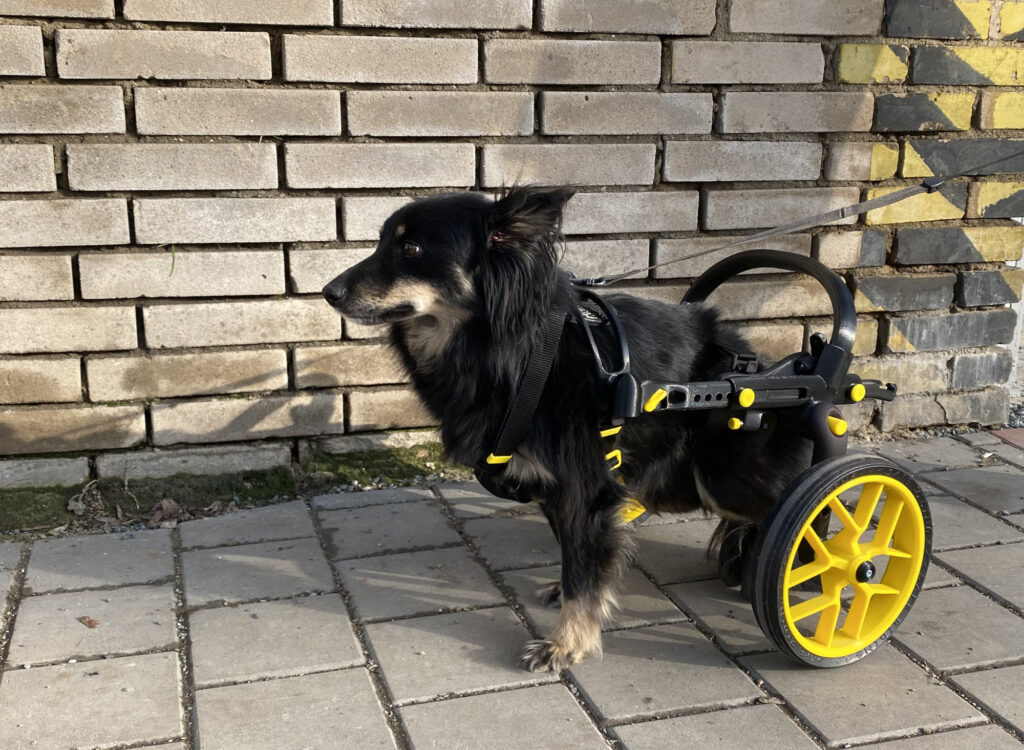 Of course, there are many trolleys with various appearances, designs, and quality. If you are not sure which one to pick, consult your veterinarian or, even better, a physiotherapist. Above all, make sure that the selected product is stable, light, and safe. The dog should have a firmly fixed pelvis, a straight spine and the cart must not restrict the movement of the front limbs in any way. Otherwise, the dog might suffer from other health problems, and he will not enjoy his time in the wheelchair.
Drag bag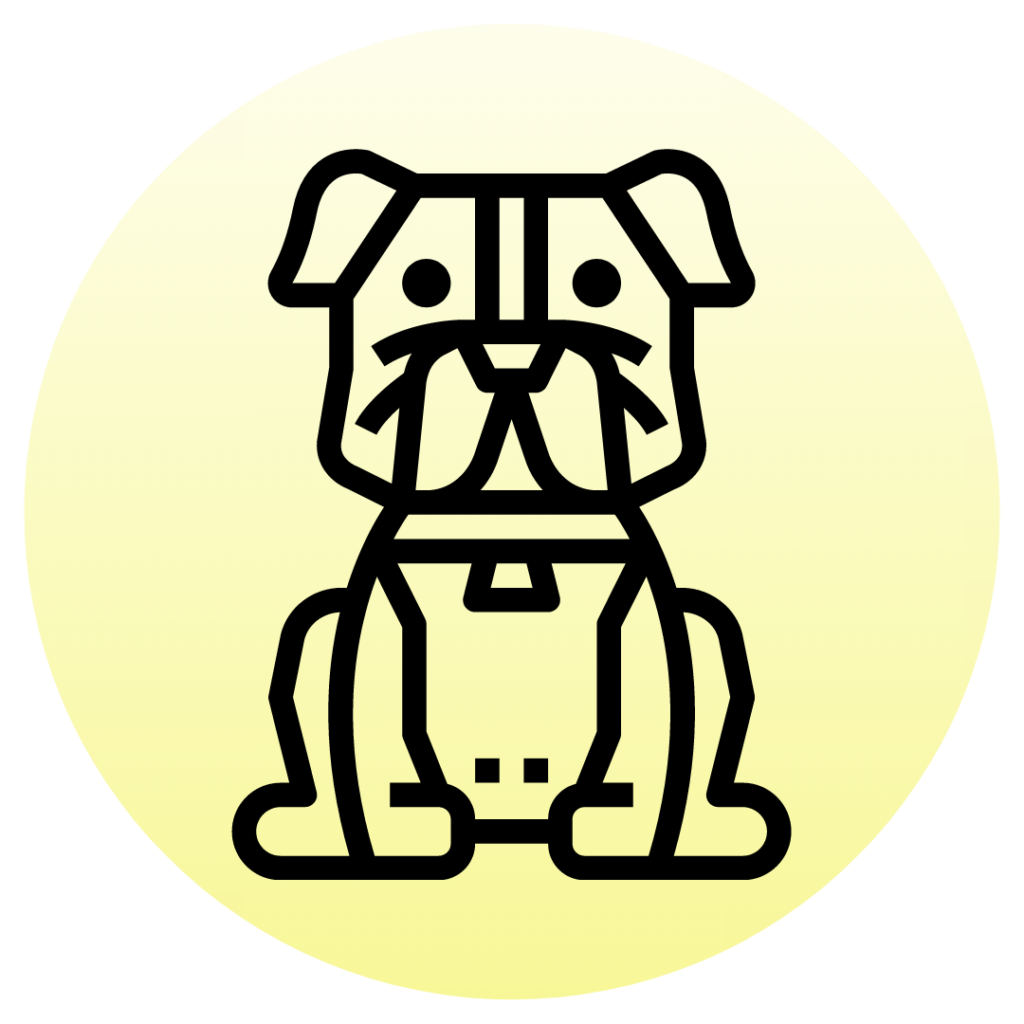 Another interesting tool is a drag bag. It is a kind of bag that covers a significantly larger part of the dog's body than just the diaper or incontinence belt.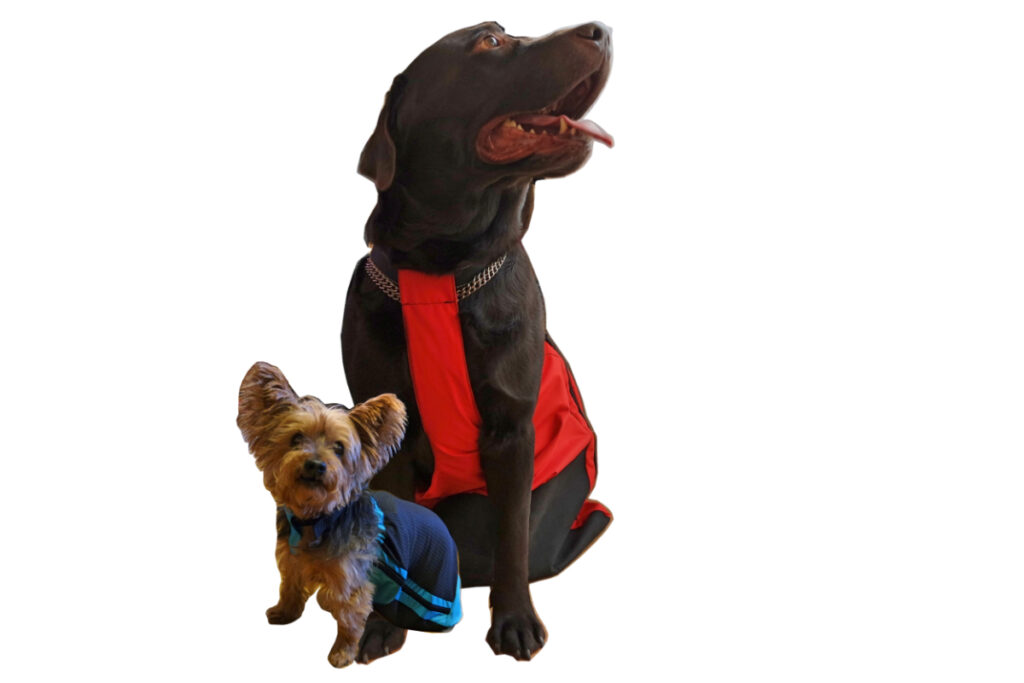 The drag bag protects the crawling dog both from abrasions and from possible colds from the ground. Overall, it also makes it easier to move, because the bag glides nicely on smooth floors. On the upper side, the bag should be breathable, so that the dog is not unnecessarily hot and sweaty. Of course, the material is easy to clean and dries quickly, which owners will especially appreciate in the event of an accident.
Rehabilitation harness
A very useful tool that helps dogs in their recovery and also protects their owners' backs, is a rehabilitation harness. It is actually a kind of sling for the hind legs, thanks to which you can support the dog on short walks, which are usually prescribed after operations as part of rehabilitation.
Of course, you can also support the dog's ass by hand or with a homemade aid, but be careful not to injure yourself by trying to make your dog healthy again!
Rehabilitation harnesses are not as costly as a wheelchair and are also usually used for a shorter period of time. Most dogs get better with proper care, but for those few weeks or months, this tool will certainly become your best friend.
Clothes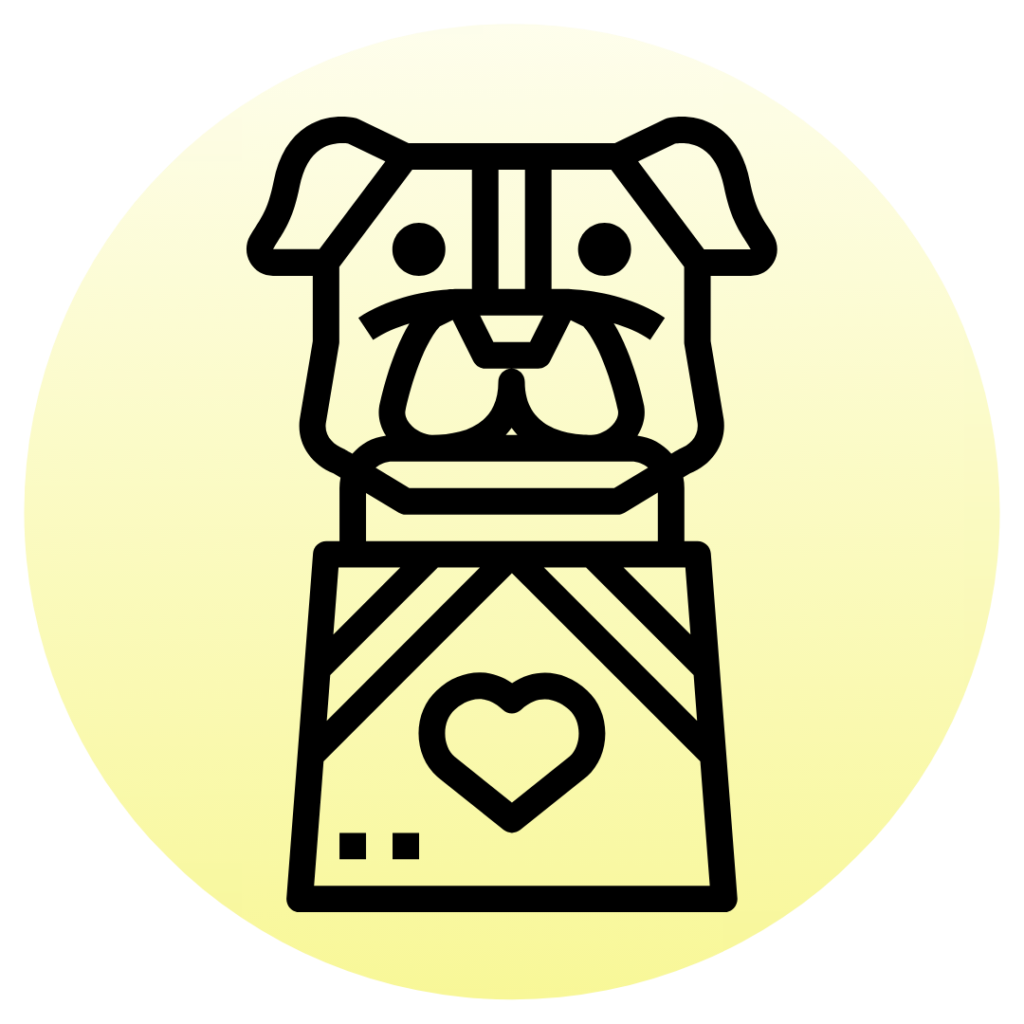 If you were used to dressing your dog in colder temperatures, the only necessary change will be maybe new underwear (a diaper). Even with all these changes, there is no need to worry that your dog will not fit in their wheelchair! The AnyoneGo carts have adjustable saddle sides, so you can change the width of the saddle in a matter of seconds.
Baby clothes can be another option for moving around at home. All you have to do is put your dog in baby overalls and, similarly to diapers, secure them with suspenders if necessary. Just make sure that the dog's clothes and suspenders fit properly, nothing pulls or scratches him anywhere, so he doesn't get bruises.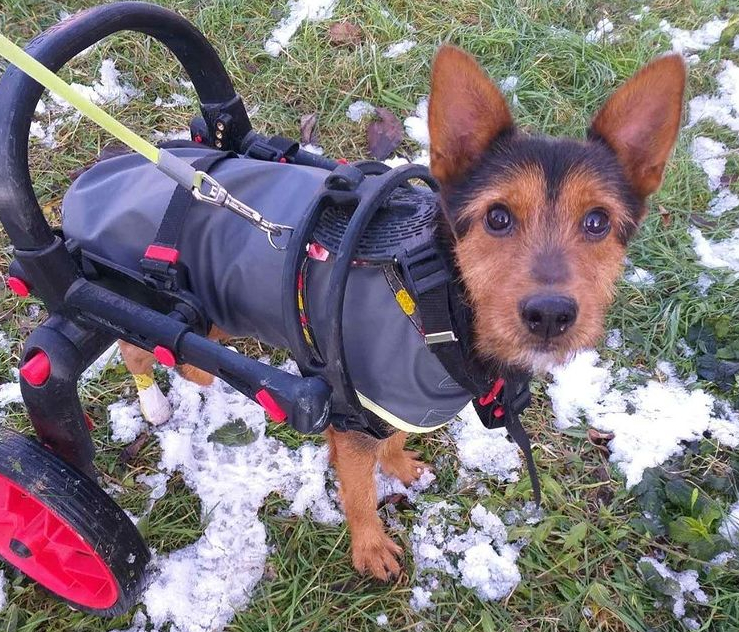 The fact that any clothes need to be adapted to the weather probably does not need to be mentioned. Freezing cold is never pleasant to anyone – but hot and sweaty is as bad. Dress the dog as you used to, there is no need to add any extra layers.
ENTERTAINMENT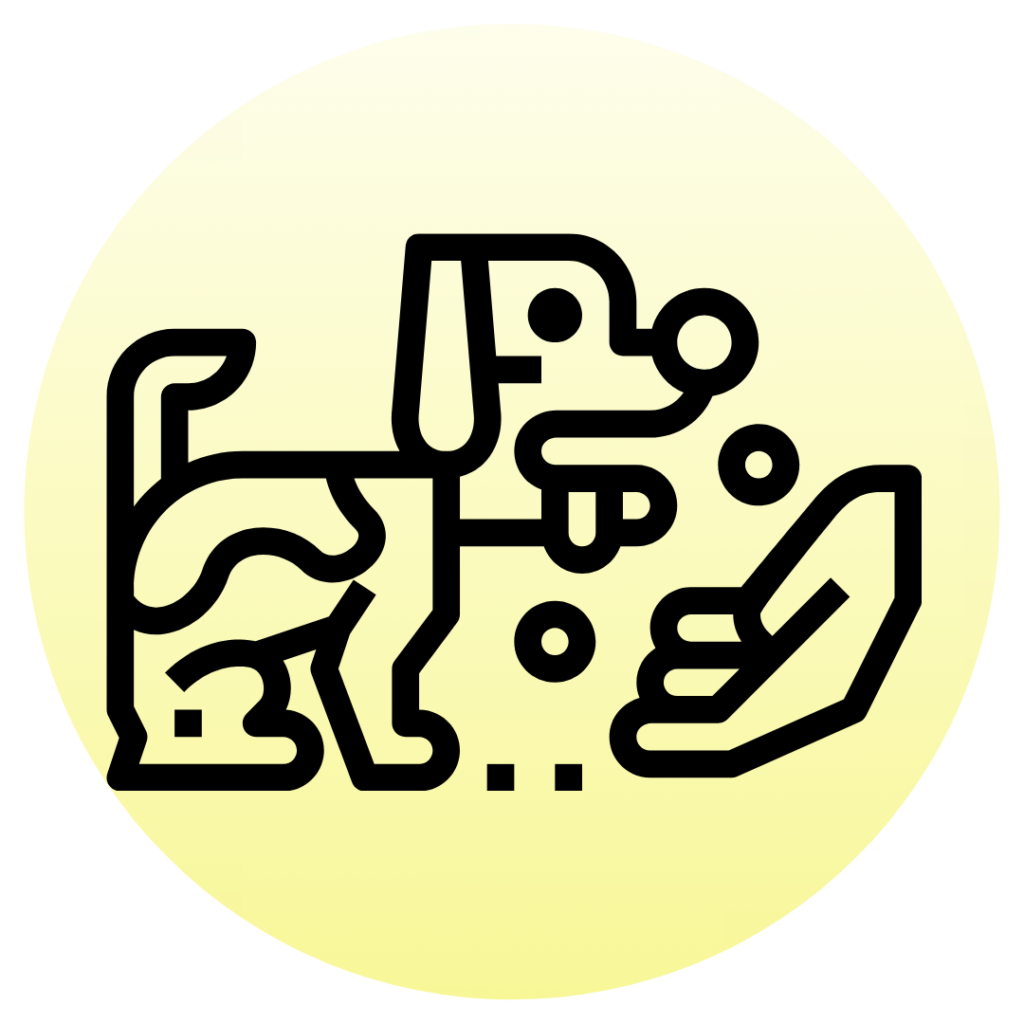 Also, don't forget that the only change in the dog is that he has difficulty moving, his intelligence, character, and favorite activities remain the same! Other than caring for his medical needs, it is important that he continues to enjoy his life. All forms of toys that make a dog think and use his natural senses are very popular. This is a great and stimulating way for handicapped (and healthy) pets to keep their head busy so that they don't get bored. In addition, they can also earn an interesting reward in the form of treats.
Sniffing blankets
Among the favorite dog, puzzles are the so-called sniffing blankets. You hide a few treats in their many folds and it's up to the dog to discover them and earn his reward.
We have recently included these sniffing mats in our offer (again, 100% designed and made in the Czech Republic by a local lady seamstress) and they will definitely make every pet happy. Our test professional sniffer, Dachshund Oliver, fully approves the quality and method of execution.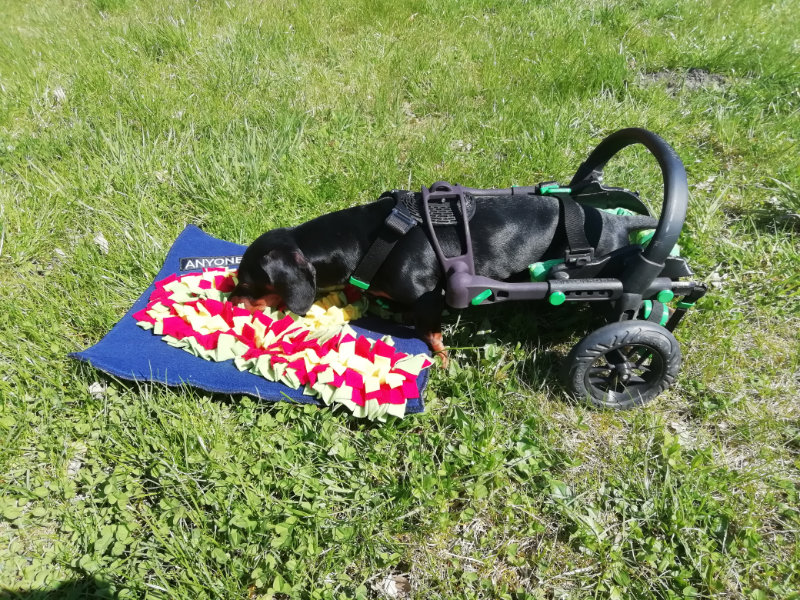 You can look for other types of dog puzzles in a specialized dog shop.
Conclusion
Can you think of another tool that you can't do without? Let us know! Practical experience among owners of paralyzed dogs is very valuable and we are happy to share your tips and tricks with the readers of our blog.